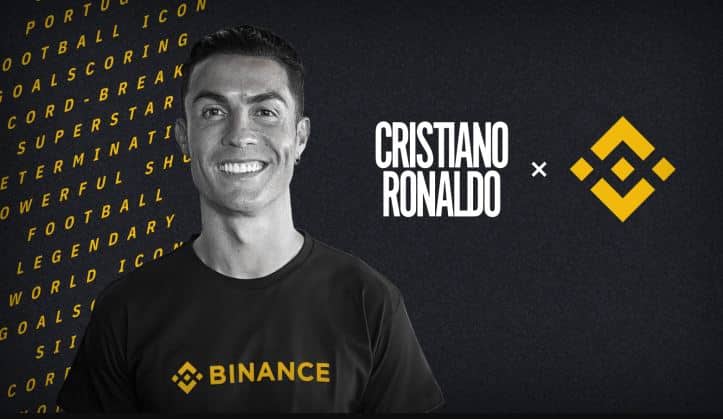 NFT
World's Top Footballer Cristiano Ronaldo Signs A Partnership With Binance: Details
An Exclusive Partnership with Binance has been signed by Cristiano Ronaldo.
Proud to be partnering with @binance

Together we'll give you the opportunity to own an iconic piece of sports history.

I'm excited to take this journey with all of you. Let's change the NFT game with #Binance. pic.twitter.com/SNSCMHggct

— Cristiano Ronaldo (@Cristiano) June 23, 2022
Binance has recently made the announcement that they have entered into a unique, multi-year NFT collaboration with the legendary Portuguese footballer Cristiano Ronaldo.
Binance will use this cooperation to conduct a worldwide campaign with the goal of providing Ronaldo's followers with an introduction to Web3 and an enticing entry point into the realm of non-fungible tokens (NFTs).
Binance and Cristiano Ronaldo will work together to produce a number of NFT collections during the life of the partnership. These collections will only be available for purchase on the Binance NFT platform. According to the press release, the first collection from NFT will be available later this year and will comprise designs created in collaboration with Ronaldo.
Binance CEO Says:
"Cristiano Ronaldo is one of the world's best footballers and has transcended sport to become an icon in multiple industries. He has amassed one of the world's most dedicated fan bases through his authenticity, talent, and charity work. We are thrilled to provide his fans with exclusive engagement opportunities to connect with Ronaldo and own a piece of iconic sports history."
Cristiano Ronaldo, for his part, said that his connection with the fans is extremely important to him. As a result, the concept of offering fans access to previously unattainable events and opportunities via the NFT platform is something that Ronaldo wants to be a part of. He has complete confidence that the audience will like the collection just as much as he does.
"My relationship with the fans is very important to me, so the idea of bringing unprecedented experiences and access through this NFT platform is something that I wanted to be a part of, I know the fans are going to enjoy the collection as much as I do."
– Advertisement –
Disclaimer
The content is for informational purposes only and may include the author's personal opinion, and does not necessarily reflect the opinion of TheCryptoBasic. All Financial investments, including crypto, carry significant risk, so always do your complete research before investing. Never invest money you cannot afford to lose; the author or the publication does not hold any responsibility for your financial loss or gains.