NFT
Sorare Review 2021 – A Full Guide to Sorare Fantasy Soccer
Sorare is a fantasy soccer game that allows participants to purchase blockchain-powered soccer player cards, build their own teams, transfer players and compete in tournaments, winning real money in the process.
All cards are based on real-world soccer teams. Sorare uses the club's intellectual property and has access to the full competitive rosters of soccer teams such as Liverpool FC, FC Bayern München, Paris Saint-Germain, and more.
Modelled on a traditional fantasy experience with the added twist of a blockchain optimization, Sorare is one of the best games in a genre it has created. The platform has teamed up with over 126 soccer teams and counting.
Trade With Up To 125X Leverage on Binance
This is possible thanks to the Sorare blockchain which is powered by Ethereum and non-fungible tokens or (NFTs). You can enter Sorare for free and play any of the tournaments without paying fees, making the platform accessible and enjoyable.
Find out more about what Sorare is in our honest review that will walk you through the platform, provide you with details about the way it works, and offer a few good-natured tips as well.
What Is Sorare?
So, what is Sorare? Sorare is an ambitious blockchain project, based on the Ethereum non-fungible tokens economy. Despite the technological twist, the platform finds inspiration in the collectible card games and fantasy soccer websites of the 1990s.
Thanks to the blockchain, though, you can now control your collection just the way you would Pro Football Manager or FIFA Ultimate Team. Players are presented with several choices when participating, including:
        Acquiring new cards to create an authentic collection

        Entering tournaments to secure prizes

        Purchase new cards or sell existing ones for profit
Before you sell a player card, you may want to make sure you have increased its value by improving the card's rankings. There are many criteria to consider in establishing a card's value, and not least player age, utility, scarcity and supply, game metrics, and what you need to make your team win, among other considerations.
How to Sign up for Sorare?
Registering at Sorare is a simple and straightforward process. You will have to navigate up to the 'Sign up' button to enter your email, pick a login name and choose a password. Once you do, submit the information and check your email for confirmation.
Follow through and you will be taken to the 'Create your club' page, granting you full control over your future team. You will choose your nickname, club name and logo. The default logos aren't too many, but enough to give you a start.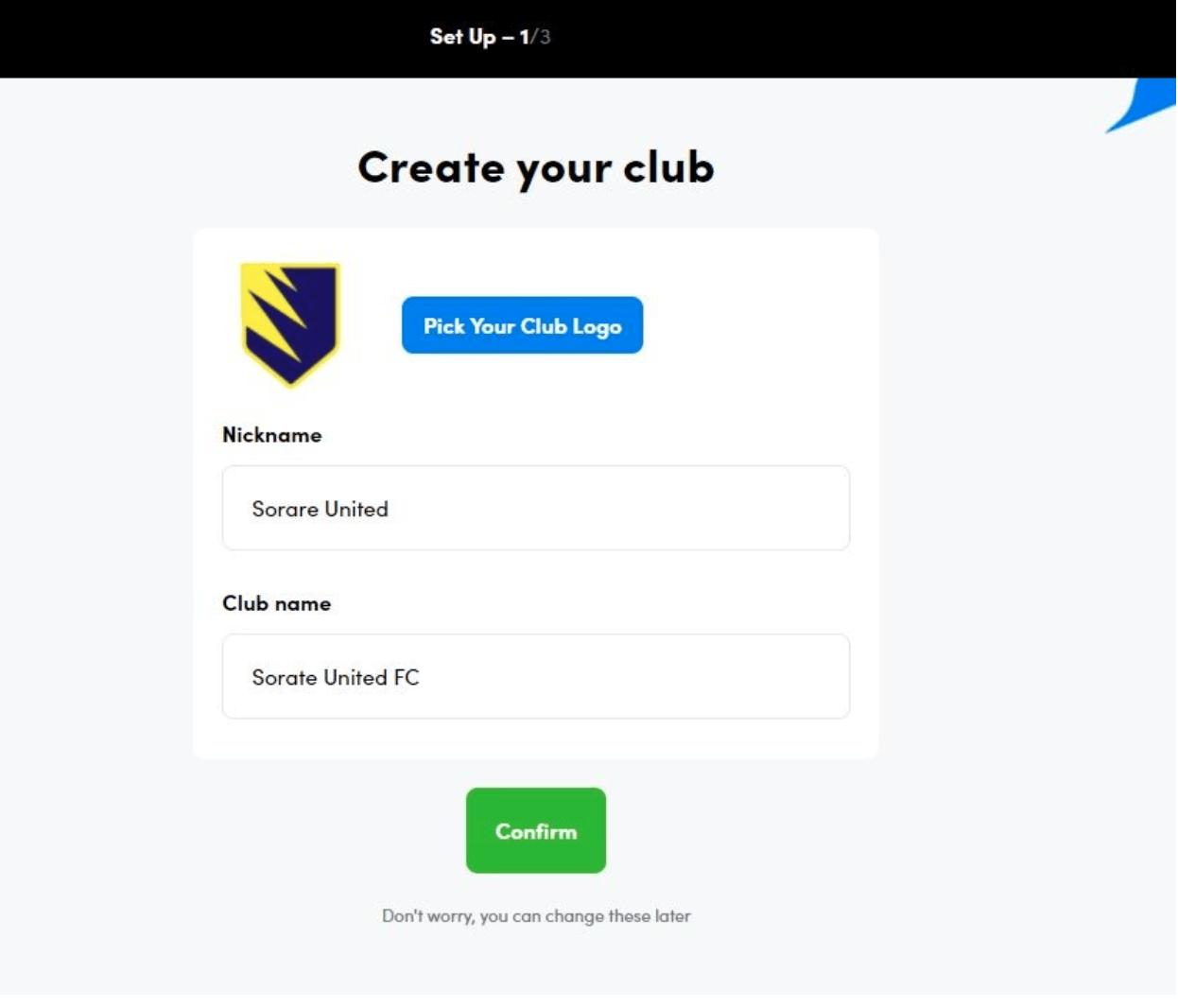 The second step will be a short overview of your options, as in 'Scout for new players', 'Enter tournaments and win prizes', and 'Meet rival managers.' The next step takes you right to the 'Meet My Squad' section, where the platform will ask you to select three of your favorite clubs.
For us, that was Liverpool FC, Bayern München and Paris Saint-Germain. Once you do, Sorare will introduce you to your team. You acquire player cards in Packs of four.
Welcome to Sorare Setup: Quick and Easy
Because the platform is planning on running hundreds of teams and thousands of players, the Sorare premise is simple. Introduce players in the simplest and most intuitive way possible.
This is why new players will take a look at the 'Onboarding Achievement,' which is a five-step Sorare guide. To claim the remainder of your cards, you need to:
Compose your team

Follow your favourite player

Make your first Card bid
Alternatively, you may skip the onboarding, too. The onboarding is a simple pick-and-click process where you join the entry-level competition, known as Rookie League.
From there on in, you get to assign players to different positions based on your preferences and what you think is best.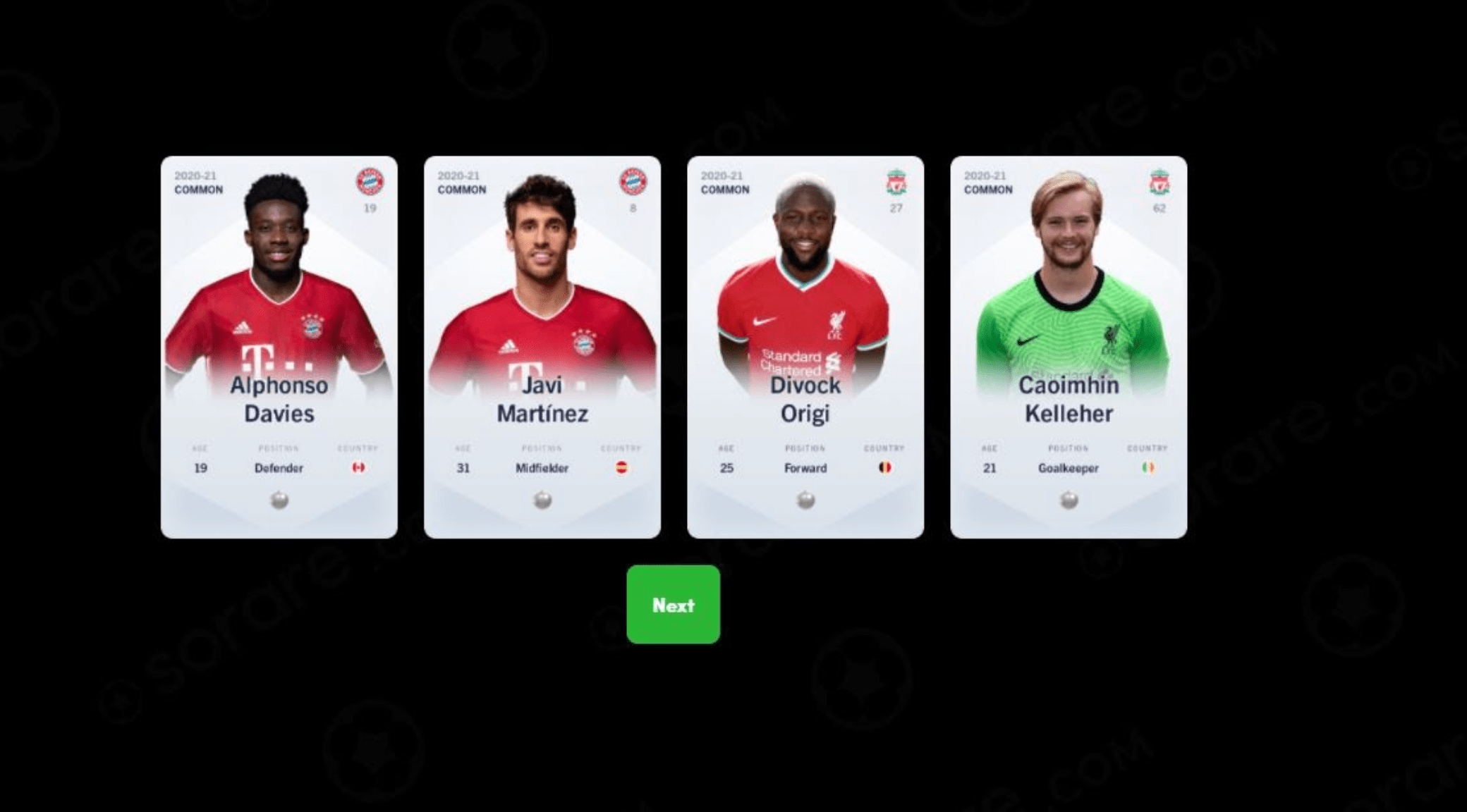 It's at this point you will familiarize yourself with important metrics, such as scarcity. As Sorare kindly reminds, player cards are limited in supply. You will get to choose from three main types of scarcities, to name:
Unique (1 per player)

Super rare (10 per player)

Rare (100 per player)
They are all generated and verified by the Sorare blockchain. Last, you will get to bid for a player, and with this, you will complete the Onboarding Achievement, getting more bonus cards in the process.
Buy, Sell and Value Your Players
Players will be happy to engage with the platform in full, and this means exploring some of its core functionality. Already familiar with the bidding process, there are three main aspects of your experience when going through the cards that you have and those you wish to procure, and that includes:
Purchasing a player from the transfer market

Selling a player back to others

Evaluate your players before selling
If you wish to purchase a card, and you may need to in order to stay competitive, you will have to go to the transfer market and try to bid for the cards you want. Depending on your budget, you can bid more, or bid less.

It works just like in real soccer, so there is that. Alternatively, you can list your own cards up for sale. However, make sure not to confuse selling your cards with auctioning them. When you list a card, this is the final price it will go for.
Lastly, we recommend evaluating your players before selling any. Check the marketplace supply. If your player is the only one up for sale, it may be tricky to fix a price, but depending on how many or how few players there are, you can squeeze out that extra value from each card.
Sorare Tournaments and Winning Prizes
Sorare tournaments are actually quite a bit of fun. The platform allows you to enter all sorts of events, and see what prizes are on the line. Generally speaking, you want to make sure you enter events that offer to award you competitive 'meta' cards.
That is cards that are strong enough to empower you in the next tournament. Of course, Sorare wants you to have fun, and so, all tournaments are free to enter and there is a 'Power Cap' for each event, meaning that you will not run into disproportionately strong teams.
The reward pools are also very accommodating and the best 30% of the overall player pool in a tournament will be awarded 'Rare' players of various tiers as well as a cash prize you can then use to bid and buy players, building your team's strength even further.
Are You New to Sorare?
There are a few Sorare tips you can take away right from the start. Resource management is important in Sorare, but for the best experience you will need to make a small financial commitment in securing some players.
You want to also enter the Rare League because the rewards there are cost-efficient, meaning you do not have to own the strongest outfit to still continually develop your collection at the expense of a small financial tradeoff.
Another tip is the value of captains in Sorare. Because some games will often end up too close to call, a captain will be a tiebreaker. Captains are awarded bonus points, and this is why you should choose smartly, especially when going up against similarly-ranked players, which is pretty much always the case in Sorare.
Final Thoughts
Sorare is a unique and fun game that has taken the concept of collectible trade games and scaled it up on its own blockchain with the help of NFT tokens. The platform is easy to get into and simple to navigate.
Yet, it offers immense potential and scalability. The myriad opportunities to acquire cards, win prizes and out-smart the competition are that neat little hook that will get soccer fans cracking.
The platform is only getting started, which means you have plenty of time to get ahead of the pack as Sorare makes history.