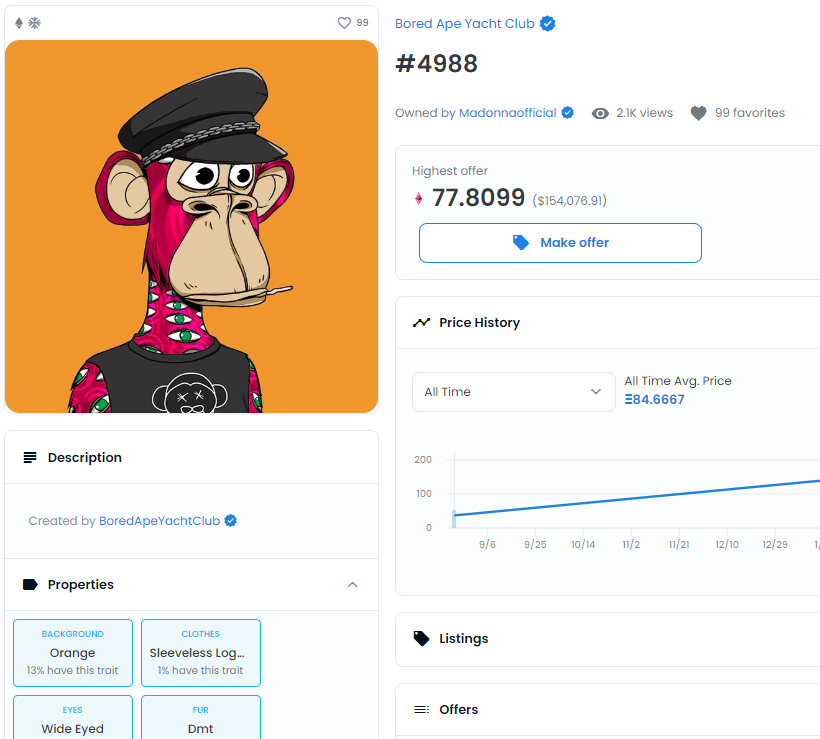 NFT
Madonna now owns an APE NFT
Madonna has added her name to the list of celebrities to the list of NFT owners. In her latest tweet, she claims to have 'entered the metaverse' with her very own Bored Ape Yacht Club NFT.
Much like other celebrities who want to engage with NFT but don't want to bother with the complication of buying Ethereum and going on Openseas, Madonna also opted for buying the NFT via Moonpay, as reported by DappRadar.
Madonna Buys NFT
The legendary "Into the groove" singer bought Bored Ape #4988 at $466,000 – approximately 180ETH at the time of buying.
Wasting no time telling the world of her latest token, Madonna proudly showed off the artwork on her profile picture – becoming the latest celebrity to jump into the metaverse, after Tom Brady, Ben Simmons, and Justin Beiber.

Earlier this month, Madonna launched her nude NFT collection that elicited mixed emotions from the crypto crowd. Some were inspired and others were bashing the artwork.
The artwork is named Mother Nature, and the critics of the NFT have blatantly said on Twitter that "Mother Nature" shouldn't wear make-up. Many are saying that the nude collection is NFT is another one of Madonna's self-aggrandizing gestures, similar to the infamous bathtub video she shot during the early days of the pandemic.
Coming back to the APE NFT, it is the first NFT Madonna has bought. However, it has 10 NFTs, all possibly sent to her by fans because no record exists of her buying the NFTS.
Madonna had never tweeted about NFTs before – unless we count when digital artist Mike Winkelmann (Beeple) tagged her to spend the news about their collaboration to their followers.
Read More
Lucky Block – Our Recommended Crypto of 2022
New Crypto Games Platform
Featured in Forbes, Nasdaq.com, Yahoo Finance
LBLOCK Token Up 1000%+ From Presale
Listed on Pancakeswap, LBank
Free Tickets to Jackpot Prize Draws for Holders
Passive Income Rewards – Play to Earn Utility
10,000 NFTs Minted in 2022 – Now on NFTLaunchpad.com
$1 Million NFT Jackpot in May 2022
Worldwide Decentralized Competitions
Cryptoassets are a highly volatile unregulated investment product. No UK or EU investor protection.