Crypto News
Gate.io Burned $40M Worth GT Tokens in 2021 First Quarter
Besides the token burn, Gate.io has undertaken the initiative to buy back GT tokens from the secondary market.
In a bid to raise the value of the GateToken coin, the Gate.io platform burned GT tokens worth $40 million in the first quarter. By reducing the coins in circulating supply and developing the market to increase the demand, Gate.io expects the GT token value to rally further amid the ongoing bull market and in the future.
"According to Block.info, Gate.io burned 10237374.905268 GT in Q1 in 2021, worth about 40 million U.S. dollars, accounting for 7.5% of GT's current circulation," the platform noted in a press release.
Currently, there are 165,700,942 units of GT tokens in circulating supply out of the total 300,000,000. According to metrics provided by CoinGecko, the GT token has a market capitalization of $649,437,154 with its past 24-hour trading volume at $49,057,756. The asset was trading around $3.94 having jumped approximately 0.9% in the past 24 hours. Notably, GT tokens have added approximately 169% in the past month, and are up over 800% in the past 12 months.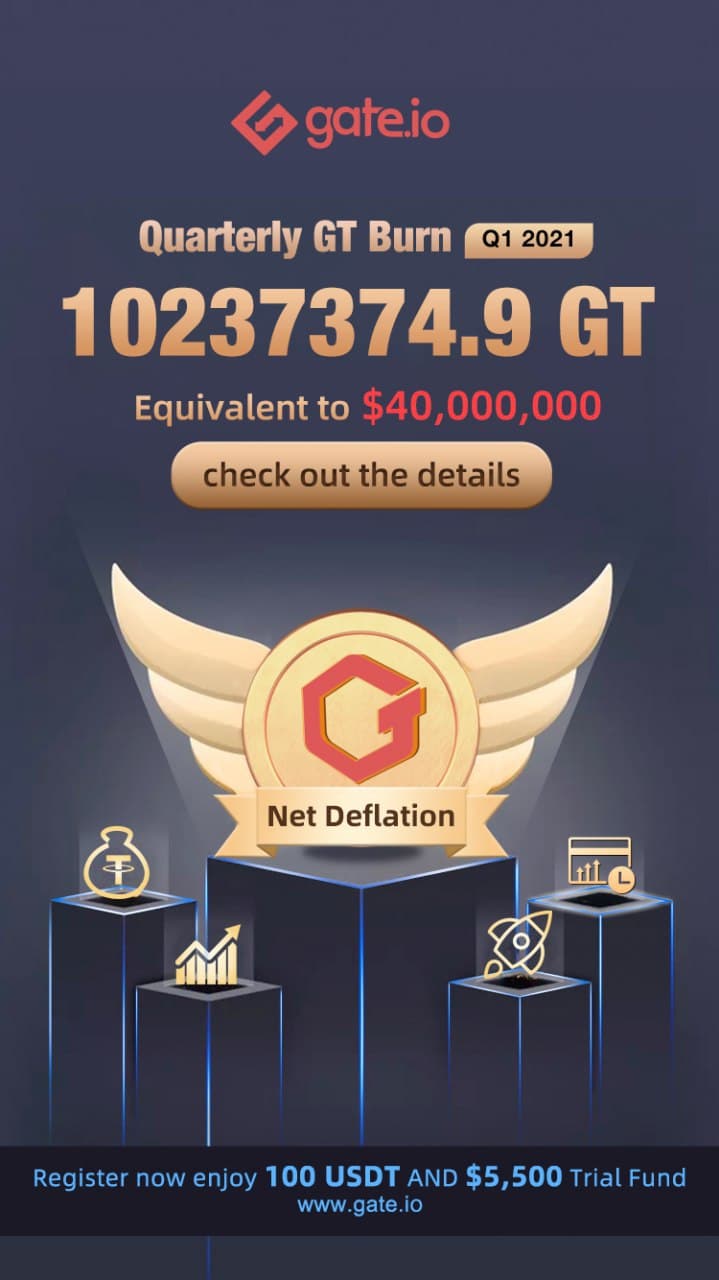 GT Tokens Market Outlook
Ranked at position 131 by CoinGecko, GT tokens are poised to rally further thanks to the token burn.
Besides the token burn, Gate.io has undertaken the initiative to buy back GT tokens from the secondary market. This is a method that has also been tested and used by Binance in its native coin BNB that has rallied astronomically in the recent past.
"Starting from September 1, 2020, Gate.io will use 15% of the profit of platform currency spot trading/margin trading/contract trading (and later, some primary new trading products) to repurchase and circulate GT from the secondary market and publicly destroy it. In addition, 5% of the repurchase profits will be used for GT R&D, market, and the building of the Gate ecosystem, and will no longer flow to the market. The total repurchase ratio is as high as 20%," the company noted in the press release.
The company will constantly monitor the GT tokens' market every four years before initializing buybacks. The method goes hand in hand with Bitcoin's halving that occurs after every four years and reduces the rate of asset supply.
GateToken supply has significantly diminished in the recent past thanks to the constant changes in the company. Notably, there were 1 billion GT tokens in circulating supply and the company destroyed 700 million of them, leaving 300 million in the market.
In a series of discounted sales, Gate.io managed to recover up to 512,000 USDT, which were all included in the GT burn. Forward, a total of 20 million GT tokens have been allocated to build the Gate.io ecosystem.
Altcoin News, Blockchain News, Cryptocurrency news, News

A financial analyst who sees positive income in both directions of the market (bulls & bears). Bitcoin is my crypto safe haven, free from government conspiracies.
Mythology is my mystery!
"You cannot enslave a mind that knows itself. That values itself. That understands itself."