NFT
Ferrum Network Announces New Partnerships With Exciting Additions To NFT Use Cases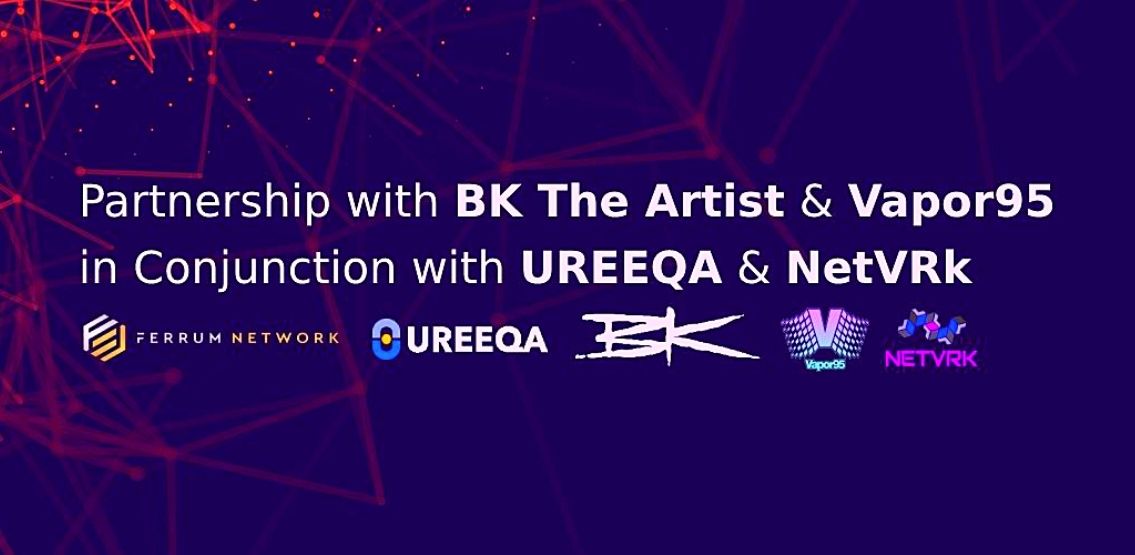 DeFi platform Ferrum Network is joining the NFT community with a twist: the NFT showcase will have virtual reality elements in combination with the vaporwave movement. The platform has announced its very first Ferrum Advisory Service (FAS) incubated NFT Artists in an announcement via Twitter:
"Ferrum Network #NFT Division — Announcing Partnership lineup: BK The Artist (@bktheartist) & Vapor95 (@VaporFashion) in Conjunction with UREEQA & NetVRk!"
FAS Plays An Integral Role in Realising BK's Potential
Renowned painter Brian Kirhagis, who goes by the moniker BK The Artist, is famous worldwide for his unique and original concepts. His artwork also ties up socially conscious messages too making BK one of the most sought-after artists. 
BK's art is found among notable collectors such as Alicia Keys and Swizz Beats, three-time Grammy award winner T.I., ten-time NBA All-Star Carmelo Anthony, and hip hop mogul and co-founder of Roc a Fella records, Damon Dash.
BK believes that creating NFTs is the tool he has been waiting for. NFTs inspire ideas and make the future exciting for creators like him. He has always believed in the concept of cryptocurrency and decentralized monetary systems. He states:
"I have always been about empowering the people and the message that I push through my art has always fallen along those lines. So in closing I believe that I could be an integral fulcrum between the traditional art world and the new frontier that we are navigating with the NFT space. This is the beginning of the future and I'm happy to be a part of it."
Vapor95 And Ferrum To Dabble With Vaporwave NFT
Vapor95 is an online clothing and fashion outlet providing an aesthetic lifestyle and promoting the vaporwave art movement. Ferrum's partnership with Vapor is the platform's first with a fashion brand. The association is aimed to push the boundaries of the NFT space.
Vapor was started by creators who used vaporwave and aesthetics as their form of creative expression. They use modern art styles of techno and chill wear, turning them into pieces that promote self-expression. 
Vapor95 brings in art from creators worldwide, such as Nemupan, Vinne Art, Mizucat, and Seerlight. Ferrum and Vapor95 prioritize their community above all, and this factor contributed to creating this unique collaboration. Vapor95 has also designed Ferrum's apparel on the Ferrum Network Store.
Virtual Reality Platform For BK's Art And Vapor95 Merch
NetVRk, a social Virtual Reality platform that uses blockchain technology, has partnered with Ferrum to bring the infinite possibilities of the metaverse to creators. BK The Artists' work will be showcased by NetVRk, providing an immersive and interactive experience. 
NetVRk will showcase BK's art inside the Arts District and interactive displays focussing on different points in his career. Vapor95's Ferrum merchandise will be up for sale here. 
A Partnership With UREEQA
UREEQA empowers creators to easily and efficiently protect, manage, and monetize their work using blockchain technology and its community. Ferrum's partnership with UREEQA is mainly because of its global appeal and relevant use cases.
The team at Ferrum states:
"Their rigorous Validation process and Package of Proof make it an obvious platform for any brand to utilize when dropping NFTs, but especially one as carefully crafted as Vapor95. Also, imagine validating specific NFTs for the pieces that BK The Artist sold to someone like Alicia Keys or TI? Just sayin'!"
Disclaimer: This article is provided for informational purposes only. It is not offered or intended to be used as legal, tax, investment, financial, or other advice.