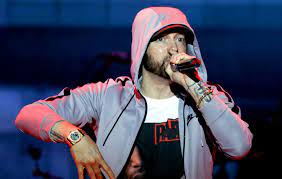 NFT
Eminem Launches NFT Collection In Partnership With Nifty Gateway
Oscar-winning rapper Marshall Bruce Mathers III, popularly known as Eminem, has joined the Non-fungible tokens (NFT) bandwagon. He just revealed his first NFT at Shady Con, an exclusive event hosted by him.
Nifty Gateway Welcomes Eminem's NFT To Platform
Eminem partnered with Nifty Gateway to release his NFT on Sunday, April 25, 2021.
#SHADYCON Open Editions on @NiftyGateway droppin now – https://t.co/feqF7459Xr pic.twitter.com/1qROVgixAp

— Marshall Mathers (@Eminem) April 25, 2021
The rapper's three NFTs of high-quality animations with an original beat alongside digital comics and action figures were launched on Nifty Gateway.
The first set of people to buy the first two NFTs titled "TOOLS OF THE TRADE" and "STILL D.G.A.F," sold for $5,000 would receive a physical print, numbered by hand and autographed by Eminem.
The third NFT dubbed "STAN'S REVENGE" is an edition of one and will sell to the highest bidder.
Eminem explained on his website that this collection was inspired by his childhood passion for collecting vintage toys, comic books, rap albums on cassette, and baseball cards.
Nifty Gateway welcomed Eminem's NFTs on its platform in a tweet stating, 'We're excited to announce that @Eminem is dropping this Sunday – April 25 on #NiftyGateway! Look out for more information and details to come".
Senior Producer at Nifty Gateway, Ashley Ramos, while also welcoming Eminem, said the demand for NFTs was growing rapidly.
Ramos added that the company was excited to bring collaborations like this to users, thereby giving them access to new artwork music on Nifty Gateway's marketplace.
Owned by crypto exchange Gemini, Nifty Gateway is a blockchain-based marketplace where people can buy, sell, and store digital art and collectibles in the form of nifties or non-fungible tokens (NFTs). It was founded in 2018 by Duncan and Griffin Cock Foster before being acquired by Gemini in November 2019.
Eminem's entry into the NFT space comes after a recent skit made by a sketch comedy show, Saturday Night Live (SNL). In the skit, US Treasury Secretary Janet Yellen is asked what NFTs are by a student and rapper played by SNL cast member Pete Davidson. The rapper uses the tune of Eminem's hit song "Without Me."
Eminem acknowledged the video on April 20. He retweeted SNL's tweet of the video, along with a thinking face emoji.
Musical Acts Joining The NFT Craze
Eminem joins the NFT space at the same time several other musical acts have. Prominent rapper and crypto enthusiast Snoop Dogg has previously released a collection of NFTs. The NFT collection, titled "A Journey With The Dogg," which includes original tracks from Snoop and artworks inspired by Snoop's life, dropped on April 2.
Other acts that have hopped on the NFT mania are Weezer, A$AP Rocky, Boy George, Aphex Twin, Grimes, The White Stripes, and Kings of Leon.