Crypto News
EasyFi Brings Tokenized Stocks & Commodities Money Markets On Binance Smart Chain With Mirror Protocol Partnership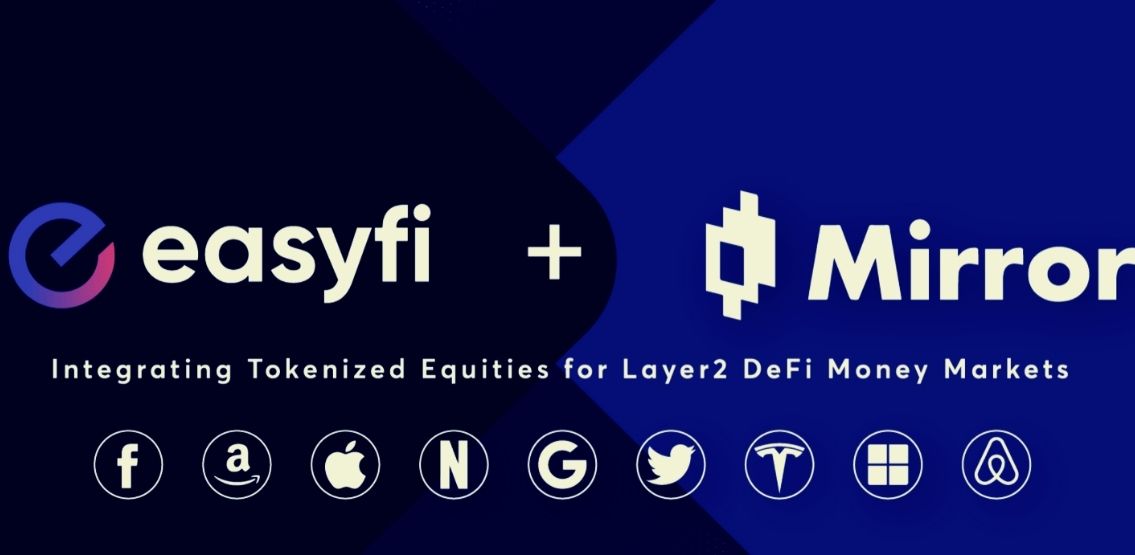 Mirror Protocol has announced a collaboration with the EasyFi Network, bringing a new range of tokenized stocks and commodities collateral markets on the platform's Layer 2 DeFi lending protocol.
The partnership will bring the "FAANG" asset range to the EasyFi lending protocol. 
First Of Its Kind On Any Layer 2 DeFi
EasyFi's Tokenized Stocks and Commodities Money Markets is the first market of its kind on any Layer 2 Defi. Besides, EasyFi will also include tokenized commodities like oil for lending and borrowing. 
It will also enable those who hold mirrored assets (mAssets) from Mirror to take loans against their commodities positions and tokenized stocks on the EasyFi protocol on the Binance Smart Chain. 
Talking Points Of the Collaboration 
The integration will include tokenized versions of global stocks (Apple, Facebook, Google, Amazon, Tesla, Twitter, Microsoft).

EasyFi will integrate the mAssets on Terra Finance on the Mirror Protocol as new money markets on the Binance Smart Chain (mAAPL, mFB, mGOOGL, mAMZN, mNFLX, mTSLA, mTWTR, mMSFT, mQQQ, mUSO).

Individuals who hold mAssets will be able to supply their tokenized stocks for lending purposes. 

Individuals can take loans against their tokenized stock positions On EasyFi on the Binance Smart Chain. 

Individuals can also borrow stablecoins like BUSD, USDC, and DAI, against their collateral assets. 
Mirror: The Smart Contract Powered Protocol 
Mirror is a smart contract-powered DeFi protocol on the Terra network. It enables the creation of mAssets, which are essentially synthetic assets. Mirror is accessible to anyone in the world through the mirror web app and the mirror wallet. 
Since its launch, Mirror has accumulated over $1.8 billion in TVL and over $900 million of total liquidity. Mirror's synthetic assets, or mAssets, are available on Ethereum, Binance Chain, and Terra. 
EasyFi: Focused On Scalability And Adoption
EasyFi is a Layer 2 lending protocol that focuses on composability, scalability, and adoption. It is an open and inclusive financial network that can run on public networks and facilitate the end-to-end borrowing and lending of digital assets. 
mAssets: Bringing Real-World Assets To The Masses 
mAssets are synthetic assets that mirror the price of real-world assets. These assets give individuals anywhere in the world access to price exposure, without the risks of owning or transacting real-world assets. 
Users can mine mAssets through the opening of a collateralized debt position (CDP). They can do this by depositing the Terra platform's stablecoin, UST. 
Disclaimer: This article is provided for informational purposes only. It is not offered or intended to be used as legal, tax, investment, financial, or other advice.