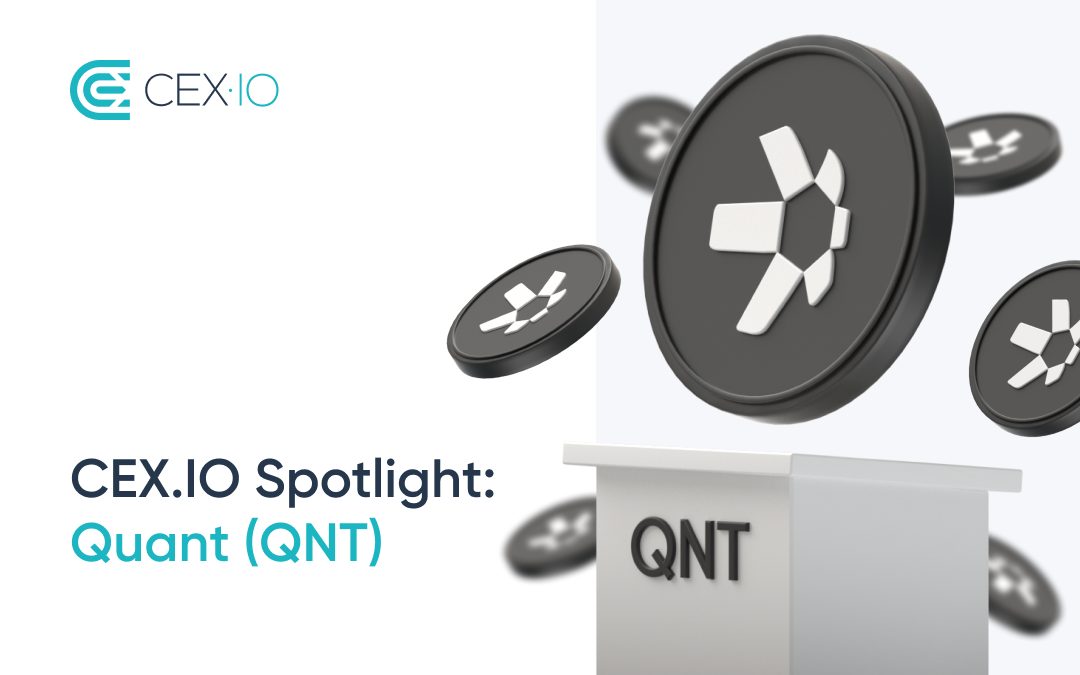 Crypto News
CEX.IO Spotlight: Quant – Bitcoin & Crypto Trading Blog
Overledger layers. Source: Medium
MApps
Multi-chain applications, or MApps, are essentially smart contracts that exist across multiple distributed ledgers. They allow decentralized applications to leverage the data received from different networks to perform operations in several networks simultaneously, Quant also supports so-called multi-ledger tokens (MTLs) or digital assets backed by real funds in external sources. These MTLs can be used as stablecoins, loyalty points, central bank digital currencies, which are issued and used across multiple distributed ledgers using Overledger technology.  
Each MApp is isolated in the Overledger ecosystem and contains the business logic. When creating multi-chain applications, developers need to determine rules on how to interact with the Overledger system and with other applications. If necessary, applications in different networks can communicate with each other by putting messages on the messaging layer. 
MApps may use so-called treaty contracts to help smart contacts in one network recognize status and operations by smart contracts in other networks. Treaty contracts can be described as smart contracts that are run off-chain for higher performance and provide the ability to run smart contracts across several blockchains, even those which do not support smart contracts such as the Bitcoin network.
Overledger use case
Let's say you have a MApp which represents a marketplace that sells certain products. MApp contains rules that if the customer buys your product in bitcoin, you will automatically pay your product supplier in ether, send some XRP to the delivery company to deliver the product to the customers, and send some part of bitcoin to your own reserve fund. It means when customers buy a product, it triggers smart contracts in different networks to perform certain actions. The ETH and XRP transactions, as well as the BTC transaction to the reserve fund, will happen simultaneously once the initial customer's BTC transaction is confirmed.
This is only one potential way to use Quant's Overledger system to achieve interoperability and maintain operations in several networks at the same time. Some other Quant use cases may include creating interoperable tokens which exist in different blockchains or performing cross-chain token swaps. 
Quant's native token
Utility
The QNT token is an Ethereum-based utility token that is intended to provide digital access to the Overledger ecosystem. QNT tokens must be provided by enterprises and developers in exchange for an annual license for using Overledger features. However, the price of the access is fixed in fiat currencies, meaning enterprises and developers don't need to purchase QNT for the license. They pay for the license in fiat to the Quant Treasury which handles the conversion of fiat to QNT. QNT funds used for license fees remain locked for 12 months in layer 2 (L2) payment channels. 
In addition, every enterprise or developer who wants to run MApps needs to hold a certain number of QNT tokens. As long as QNT tokens are staked, developers may create and maintain their MApps. Developers may monetize their MApps and may use the treasury as a payment processor to charge payments for subscription or one-time transactions. Such monetization is assumed to be achieved using fiat currencies or digital currencies, including QNT. End customers may also hold and pay with QNT tokens to get access to MApps and use services within the Overledger ecosystem.
Token allocation
The initial token supply differs from the current one because the team behind the project completed a burn of 9,545,765.950989192 QNT. The reason is considered to be the ICO which hasn't achieved set goals because of difficult market conditions at that time (bear market). The current total QNT supply is fixed and contains 14,612,493 QNT tokens. 
The QNT tokens are assumed to be split in the following way:
9,964,259 QNT — tokens sold during the public ICO, pre-sale, and private funding rounds.
2,649,493 QNT —  the Quant company reserve which is used for research and development, building infrastructure, and other purposes.
1,347,988 QNT — tokens that belong to the company founders.
650,753 QNT — tokens that belong to the company advisors and staff. 
The current circulation supply excludes Quant's company reserve, which may vary depending on the Quant company strategy.