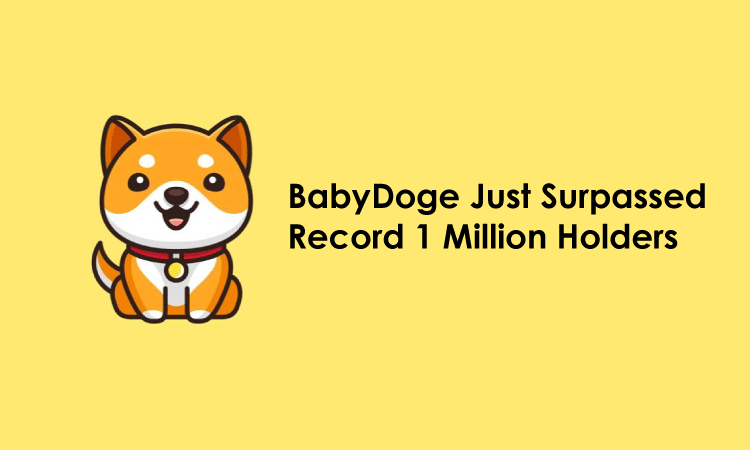 NFT
BabyDoge Just Surpassed Record 1 Million Holders, According to Bscscan.com Data
BabyDoge Official Twitter account just posted 1 million holders celebration tweet.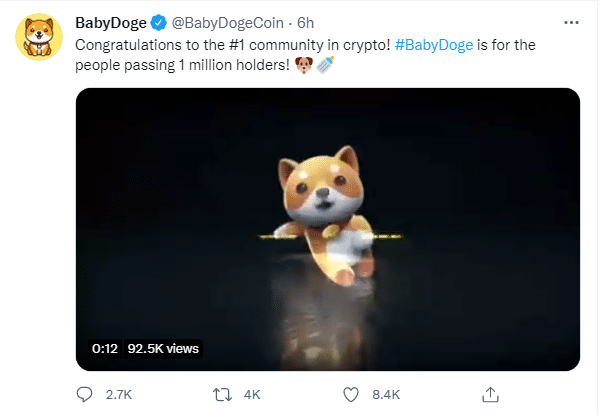 According to Bscscan.com, BabyDoge just surpassed 1 million holders' addresses.
At the time of writing, BabyDoge is trading at $0.00000000204, up over 1.68% for the day. The coin hit low price of $0.000000001928 in 24 hours and the high price is recorded at $0.000000002046. The volume exchanged during the day is equal to $7.59M. The coin current market capitalization is $545.779M, securing rank #2872 in reference to market capitalization.
According to coinmarketcap, the self reported circulating supply is recorded as 268,383,459.89B BabyDoge (not verified), whereas max supply is reported as 420,000,000,000,000,000.
Important to Note: BabyDoge is deflationary token, and is designed to become more scarce over time, which will benefit Baby Doge price.
BabyDoge is a new crypto birthed by fans of the DogeCoin online community. Baby Doge seeks to impress his father (Dogecoin) by showing his new improved transaction speeds & adorableness. He is hyper-deflationary with static reflection that rewards holders, so more baby doge coins are being automatically added to your wallet each transaction. Simply love, pet and hold as 5% from each transaction is automatically redistributed to baby doge holders.
BabyDoge was launched in June 2021 and has an ambitious roadmap that includes further efforts for pet charity, NFT creation, GameFi and more.
Who Are the Founders of BabyDoge?
As with other meme cryptocurrencies, it is unclear who the creators and main team behind BabyDoge are. These developers built BabyDoge using the Binance Smart Chain to create an ecosystem that is still Ethereum-compatible. Since its inception in June 2021, BabyDoge has amassed a community of 250k token holders, 85k Telegram members, 85k Twitter followers, and 45,000 Instagram followers.
What Makes BabyDoge Unique?
BabyDoge has real world utility in its pipeline, which is something uncommon in many meme cryptocurrencies. It features a BabyDoge debit card and mobile application, partnerships with top e-commerce platforms like WooCommerce, Shopify and Magento, and charity tie-ups with animal rescue and shelters like Paws with Cause, Furkids and Best Friends.