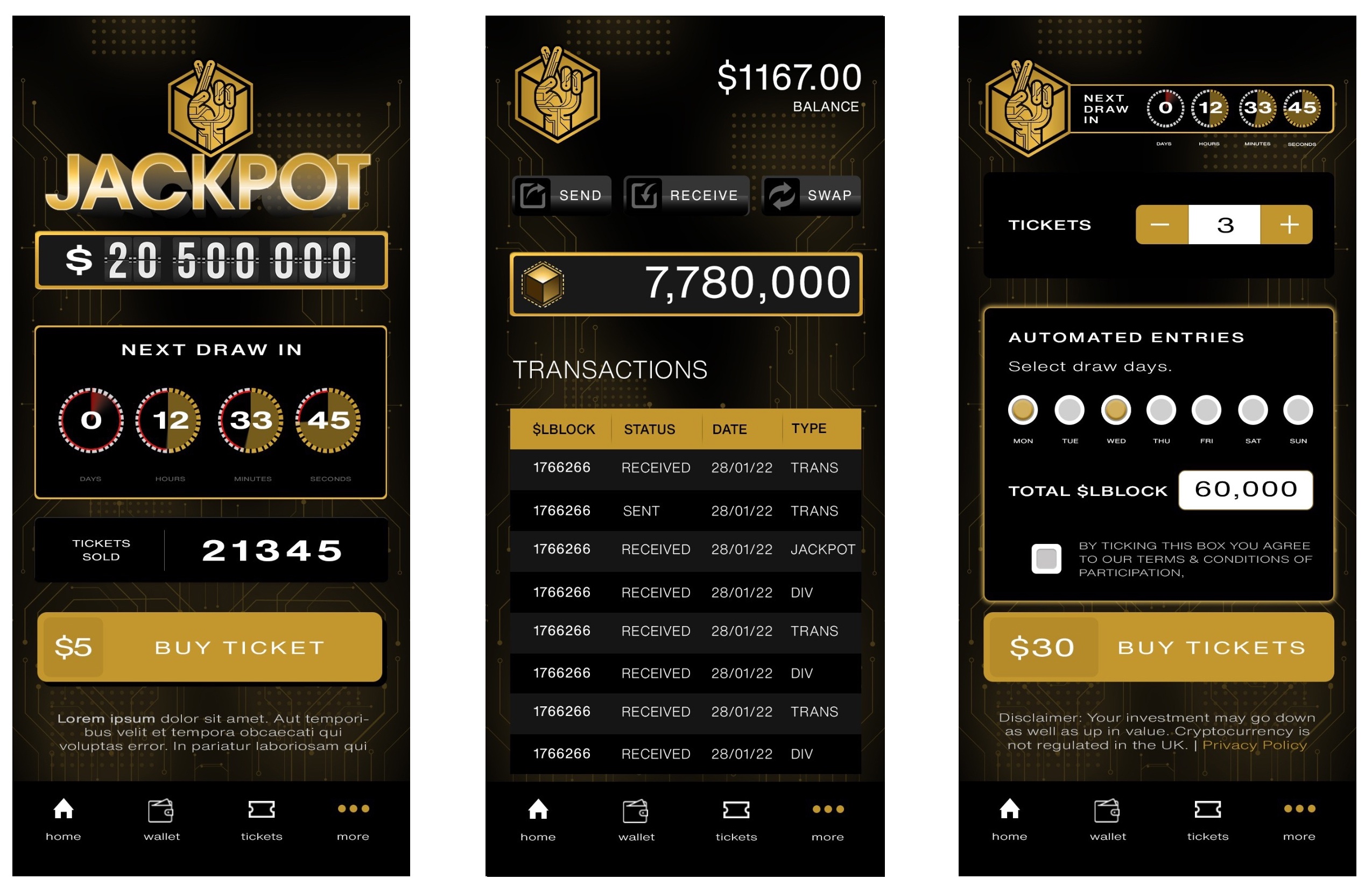 Crypto News
6 Top Reasons to Buy and Hold Lucky Block (LBLOCK) for the Long Term
If you are looking for a crypto with mass adoption potential that can consistently grow its revenue stream and pays a dividend – then Lucky Block is for you.
Lucky Block is a blockchain-based lottery platform listing on PancakeSwap on 26 January at 18:00 UTC.
It has significant advantages over traditional online and offline lottery systems and as far as other crypto go, it is the equivalent of a value stock.
Lucky Block overview
With Lucky Block there will be no hoping that projected future cash flows turn out to be true – from day one Lucky Block will generate cash flow as it brings the power of blockchain to shake up the legacy lottery industry.
The odds of winning are better, all token holders receive a dividend and 10% of the lottery pool goes to charity – what's not to like? Everyone's a winner, as the project's tag line proclaims.
LuckyBlock is all about giving back. The platform is focused on putting good causes at the centre of its mission. 
In addition, by leveraging the transparency properties of decentralised ledger technology, Lucky Block overcomes one of the main complaints levelled at the industry by players – a lack of trust.
The operational and cost efficiencies that flow from blockchain technology also allows the platform to incentivise player loyalty as well as rewarding token holders with an income stream for players and non-players alike.
The token is a combination of utility and investment token. In terms of accessing the services of the platform, such as buying entry tickets for lotteries, only LBLOCK is accepted in payment. 
However, token holders are also entitled to a share of the prize pool by right of ownership. The passive income stream generated by the lottery through ticket sales means that each token holder has a stake in the lottery.
Lucky Block has 19,400 members of its fast-growing Telegram group, where you can stay up to date on latest developments and news from the project.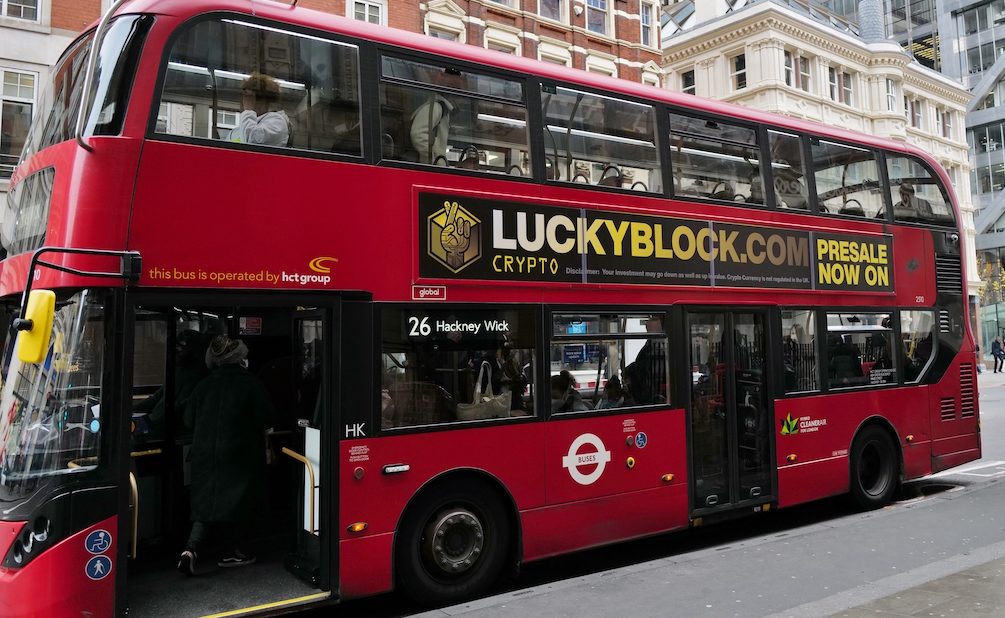 Here's the 6 top reasons to buy and hold Lucky Block (LBLOCK) for the long term
1. More money for good causes
Because of the savings made on running costs there will be more funds available for good causes and LuckyBlock's other charitable partners, with 10% of each jackpot prize pool going to donations.
Lucky Block has already made its first donation – of $5,000 worth of BNB to the British Red Cross. The donation will be the first of many to this global organisation, whose work is a worthy beneficiary of a global lottery platform.
The large amounts to be given to charity will all be trackable on the blockchain via the relevant  smart contract address and associated transaction hashes.
2. Vote for your favourite charity 
Because LuckyBlock is built on the blockchain, the token is able to be programmed to include properties such as voting rights. These rights can be exercised by the token holders as a form of governance over the network, putting the token holders in charge.  
For instance, token holders will be able to vote on which charities to support and on issues such as token burn rate proposals and other possible improvement proposals for LuckyBlock.
3. Improved odds means a better chance of winning
The high odds associated with large national lotteries have seen them referred to as "a tax on idiots".
Figures show that you are nearly three times more likely to get struck by lightning (1.2 million-to-1) than you are of having a chance of winning the Powerball draw (292 million-to-1).
Lucky Block increases the odds of winning for every player. With LuckyBlock the prize amount per player ratio will be far greater than seen in traditional  lotteries.
In addition to the better odds for players, every holder of the token is entitled to a share of every single jackpot prize.
Lottery draws will be held daily and will eventually take place throughout each day. 

4. Dividend payouts: a consistent and increasing income stream
Everyone that holds LBLOCK tokens, which are used to buy tickets to enter the lottery, is entitled to a share of every single jackpot prize.
Here's an advanced peak of Lucky Block's modelling:
Based on conservative amount of 25,000 holders by lotto launch 25 March, 50% of holders buying on average of 1 ticket per day @ $5.
Alice holds $1,000 LBLOCK in her wallet, which is 0.066% of LBLOCK held of circulating supply.
She buys a $5 ticket in a lottery which has a jackpot of $54,950. Despite her 12500/1 odds, Alice doesn't win but she get's paid a dividend in LBLOCK of $0.52 anyway.
However, Alice would have received this dividend whether she bought a ticket or not.
If Alice held this amount of LBLOCK all year round at this rate she earns 19.5% per annum.
Note: The Lucky Block transactional fee is applied on the sale of LBLOCK tokens on the exchange. There are no transactional fees on ticket purchases – just the sale of the token on the exchange. The model is based on 4% of $400k trading volume in the 24hrs between each jackpot and assumes a market cap of $15 million.
There are three things that affect dividend : Market cap, number of token holders, proceeds of tickets sold.
If the lottery grows, so does her return! Furthermore, if the market price of LBLOCK increases, Alice would essentially be getting free ticket entries offsetting her gains against her tickets.
The example above does not include the effects of compound interest which would further enhance earnings.
5. ESG-compliant: Low-energy, charitable giving, transformed governance
A green crypto with low-energy usage, player-centred governance and a focus on giving back to the community. Lucky Block is built on the Binance Smart Chain which uses a Proof of Stake Authority consensus system.
Because of its greater efficiency, BSC can process around 60 transactions per second (tps) while Ethereum can only manage a maximum of 15 tps. This means energy usage per transaction is much less. BSC has 21 validators whereas Ethereum has in excess of 11,000 all running on old proof of work computational-heavy consensus systems.
Lucky Block's in-built philanthropy mechanism also boosts its ESG credentials, as does its governance model that gives token holders a vote on the charities they want to donate to.
Lucky Block app will also include gambling risk warnings to promote responsible behaviour.
6. Web 3.0 disruptor will up-end multi-billion dollar industry
LuckyBlock is leveraging Web 3.0 decentralised technology to transform philanthropy and lotteries by making everyone a winner in a way that benefits those most in need of help. 
Web 3.0 services are decentralised networks disrupting current centralised legacy companies, in this case lottery operators. In addition to slashing running costs, and leveraging DeFi to give each token holder a monetary stake in the platform, players also have the benefit of the transparency lacking in traditional lotteries and voting rights on governance issues.
Unlike most lotteries which tend to based in one jurisdiction, Lucky Block is global, meaning anyone with the a smartphone and Lucky Block token can take part.
More about Lucky Block
Lucky Block was founded in November 2021 by serial entrepreneur Scott Ryder, founder of Learn2trade and the force behind two successful crypto product launches, DEFC Coin, Defi Swap and Stakemoon.
Lucky Block will be accessed on both mobile app and desktop. The mobile application is currently in development. The underlying Lucky Block blockchain technology is built on top of the Binance Smart Chain.
How to buy Lucky Block on PancakeSwap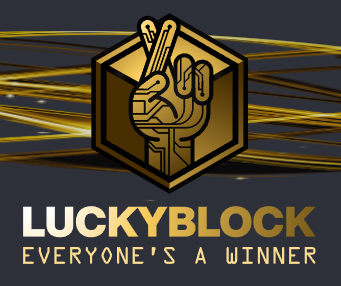 Lucky Block will be listing on major centralised exchanges, including Crypto.com and FTX later this month and in February on Binance, to name but three.
However, from Wednesday 26 January Lucky Block token (LBLOCK) lists on decentralised exchange (DEX) PancakeSwap, at 18:00 GMT/UTC.
PancakeSwap is a BEP-20 DEX that runs on the Binance Smart Chain, which means to buy LBLOCK you will need the BEP-20 version of the BNB coin – BNB Smart Chain, as opposed to the original BNB exchange coin which is an ERC-20 compliant token of the Ethereum blockchain.
To make sure you are trading the correct coin, be sure to check the contract address:
Lucky Block Contract Address: 0x2cD96e8C3FF6b5E01169F6E3b61D28204E7810Bb
How to convert BNB (ERC-20) to BNB Smart Chain (BEP-20) in Trust Wallet:
Click on BNB in Trust Wallet

: Open your Trust Wallet app and click on BNB. You should now see the tokens that you transferred over from the prior step. 

Swap

: Next, click on the 'Swap' button, followed by 'Swap to Smart Chain'.

Enter Quantity:

Assuming you want to swap your entire BNB balance over to the Smart Chain, you can click on the 100% button. However, it is worth reducing the total quantity by a very small margin – so that you have enough BNB from the

main

Binance Chain to pay for transaction fees.

Confirm Swap: Once you confirm the swap, Trust Wallet will execute the smart contract. You will see this via a notification.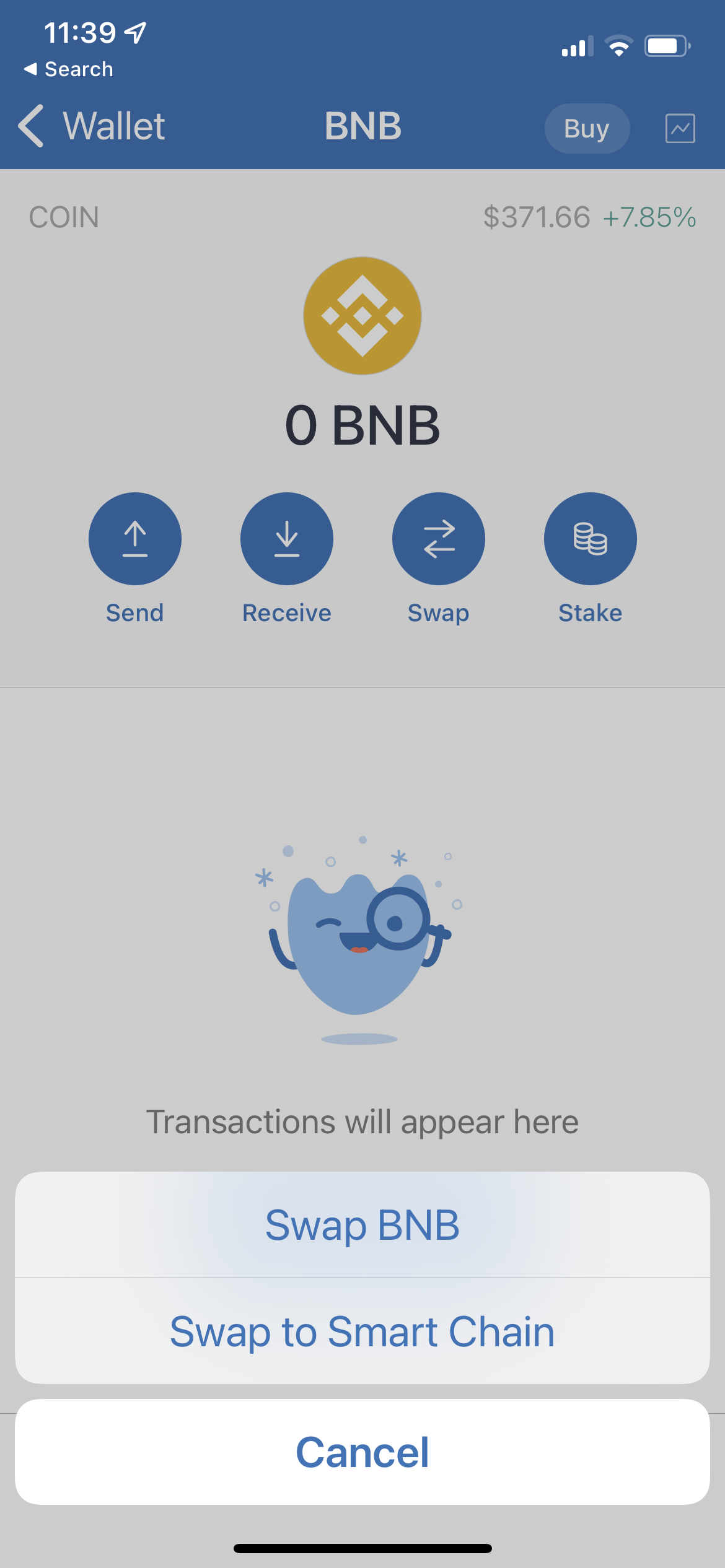 Here's how to access the PancakeSwap via your Trust Wallet:
Click on DApps

: At the bottom of your Trust Wallet interface, click on the 'DApps' button. 

Select Pancakeswap:

Next, look for the Pancakeswap logo and click it. You should find it beneath the 'DeFi' tab. If not, you can manually search for Pancakeswap. 

Binance Smart Chain:

By default, your Trust Wallet should connect to Pancakeswap via the Smart Chain. You can check this by looking at the top-right-hand corner of the app and seeing whether or not the Smart Chain logo is displayed. If not, click on the respective logo and select 'Smart Chain'.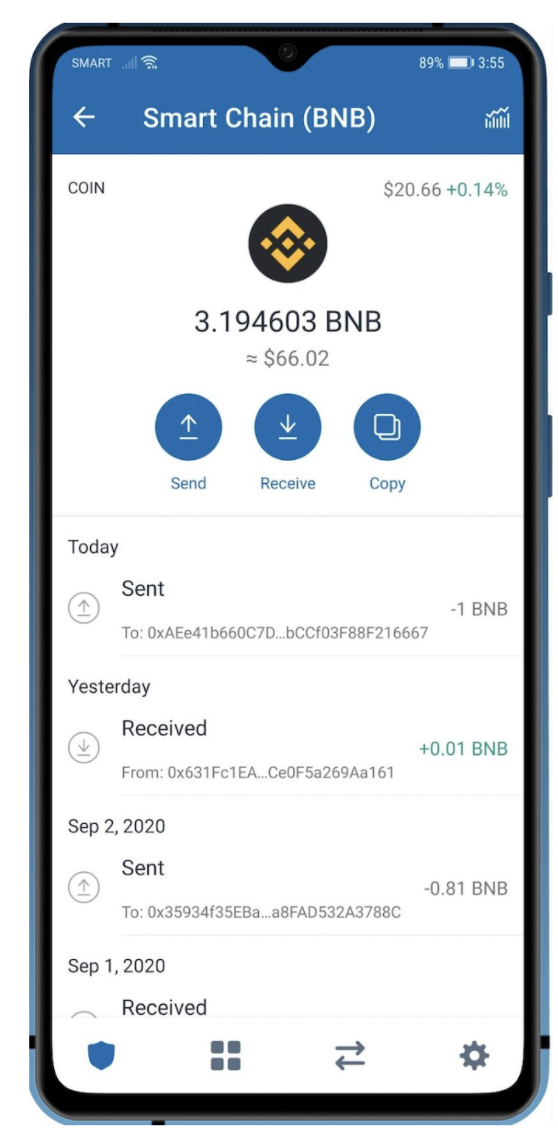 To find out more about Lucky Block, check out the Whitepaper.
Disclaimer: The author acts as a consultant to Lucky Block. None of the information in this article is investment advice.