Crypto News
2021 starts with record volumes in decentralized exchange
Today's trading landscape is primarily dominated by a few large players, predominantly Coinbase, Kraken, Bithumb, Huobi, Bitfinex, and Binance. While centralized trading has been widely popular, it's not the new financial ecosystem most crypto enthusiasts and entrepreneurs are hoping to achieve.
With Decentralized finance (Defi) gaining ground in 2020 and a trading boom in Defi tokens, decentralized exchanges (DEX) have been increasingly popular and show no sign of respite in 2021. DEXs through its lucrative yield farming incentive allows any person to act as a liquidity provider to ensure healthy volume (liquidity) levels in the exchange.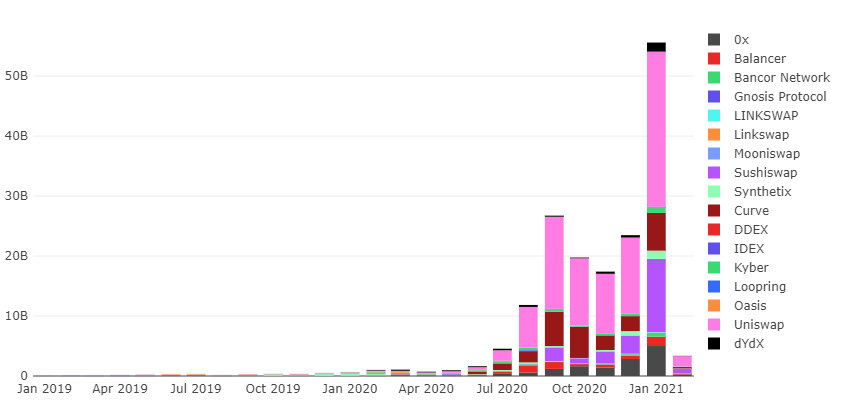 In January 2021, volumes in decentralized exchange (DEX) have broken the records set last year in Sep 2020. According to data compiled by the Dune Analysis, DEX volumes reached $63.25 billion in Jan 2021, 220% higher than the trading volumes seen in Sept 2020 ($28.9 billion).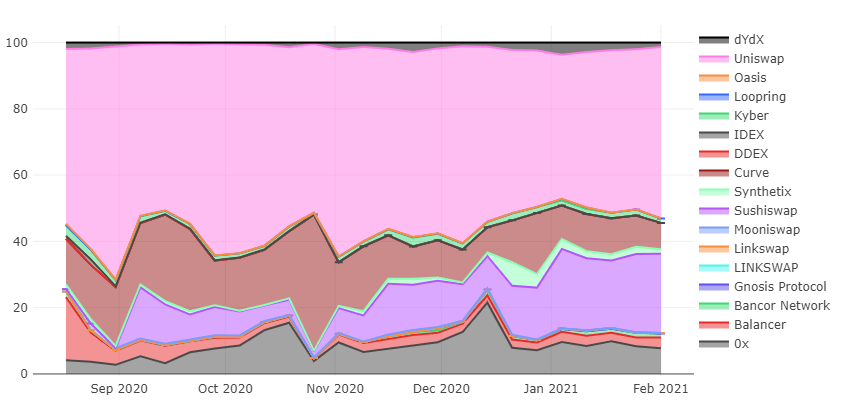 The key contributor – Uniswap currently makes up 40.9% of January's trading volume, followed by Sushiswap that handed 19.3% of January's trade orders.
The largest single-day trading volume in January on Uniswap was $1.3 billion, registered on January 11, 2021. Last year's highest single-day volume was seen on September 1, 2020. Volume on that day surged to $2.04 billion as Harvest Finance exploiter ran money through the automated market maker.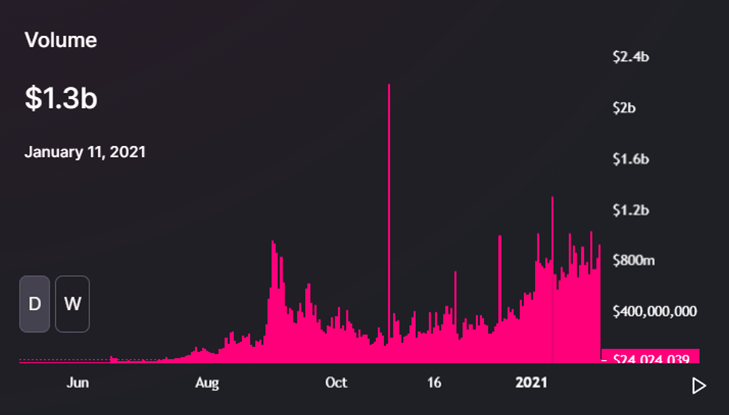 While trade volume in Uniswap increased by 200% compared to last month, Sushiswap enjoyed a jump of nearly 300%. Launched in Sept 2020 as a fork of Uniswap, Sushiswap aims to add additional features not previously present on Uniswap. In a little over 5 months, Sushiswap has become one of the leading DEXs. With its increased rewards model for liquidity providers, it is rising as Uniswap's biggest competitor.
In third place, Curve, a decentralized exchange for trading stable coins managed 12% of January's trade volume. Launched in January 2020, Curve has seen significant growth in the second half of 2020. Given the rise in the number of stable coins (USDT, USDC, DAI, TUSD, etc.) and the lack of direct stable coin swaps in the DEXs, Curve became the go-to exchange.